What do Microsoft and Chapman have in common? Both were started in garages!
    Chapman Manufacturing was established in 1936 in the garage of Old Man Chapman on Meeting House Hill Rd in the small town of Durham, Connecticut. In 1965, Bill and Doris LeVee bought the company and moved it right around the corner to its current location. Current owner, Tracy Camassar, was selected by the LeVees to carry Chapman into the next generation.
Tracy, Mr. LeVee and Old Man Chapman, are all quality control sticklers, which explains the hundreds of glowing reviews from customers we've received over the past 80+ years attesting to the quality, durability and handiness of our tools. People use Chapman midget ratchets and insert bits to repair and service everything from firearms to appliances, computers to dental equipment, and to what was Mr. LeVee's delight, Apache helicopters!
    Chapman tools and parts are American made and assembled from American made materials. Everything from the gear inside our famous midget ratchet, to our steel and paper brochures are made in America, the way it has been since 1936.  
Joel Discusses Chapman's history and future plans on The Made in America Podcast
This Made in America episode features Joel, Owner of Chapman Manufacturing, and the story behind an iconic brand and products that customers love! Joel chats with Ari about his personal manufacturing journey. He talks about learning things the hard way, listening to customers' ideas, and building a business from the ground up. Chapman has been able to keep their original traditions going and successfully expand!
Chapman has only had 3 owners since 1936. The first two owners recorded the important dates and figures but not fun facts, trials, tribulations, or product details. Most of the information we've compiled has come from previous employees, anecdotes from townsfolk, John Chapman's extended family via e-mail and lucky finds around the shop. Our tools are particullary hard to date because they're essentially the same since 1936 and we don't have product release/change records. Since its difficult to nail down most things to a specific year, we tend to describe our tool history in eras.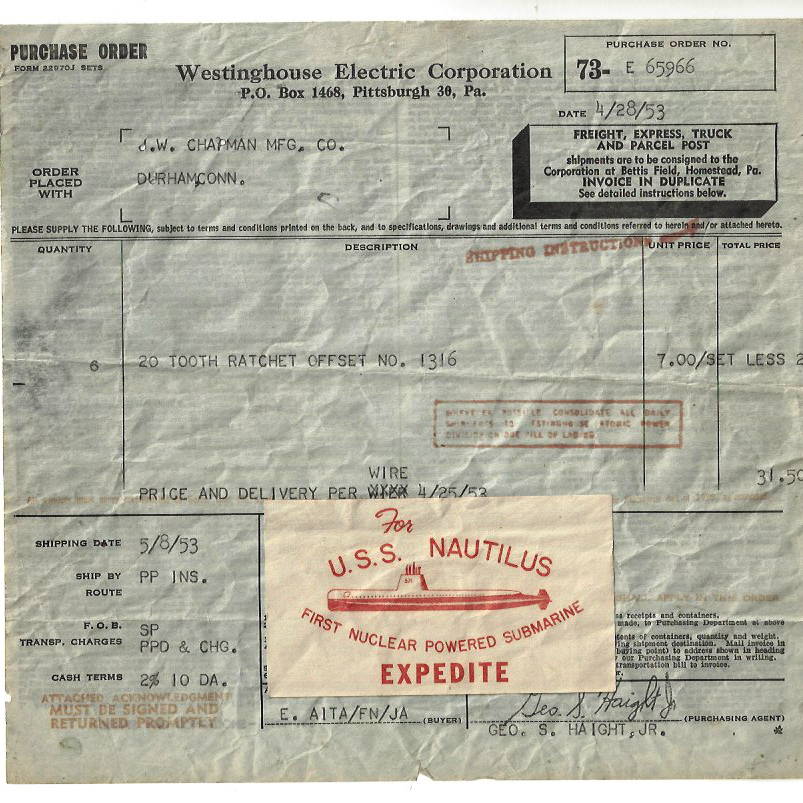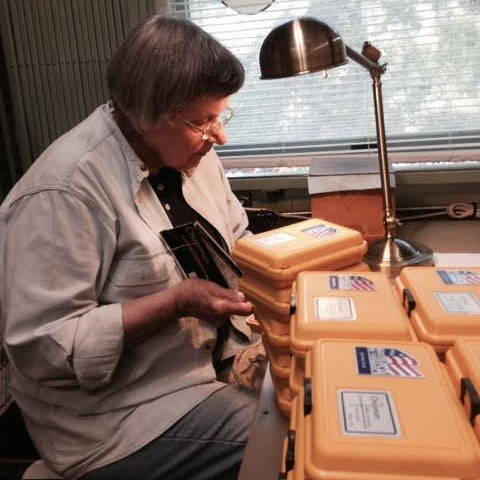 WWII Era: Chapman tools were sold in eyeglass cases. They were deemed so important by the US. Government that they were marked with a price ceiling to prevent price gouging during the war.
1953: A purchase order for 6 of our sets for the Nautilus sub, the first nuclear powered sub! Fun fact: they ordered #1316's, which we still make
1950's: As the business grew Mr. Chapman started experimenting with many different cases.
1965/66: Second owner Bill LeVee purchases the company and moves it out of the garage to the current location. Mary (pictured above) starts her 50 year career at Chapman.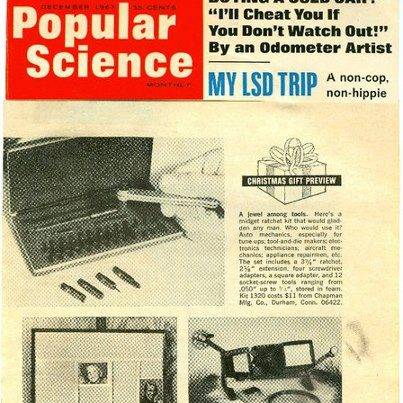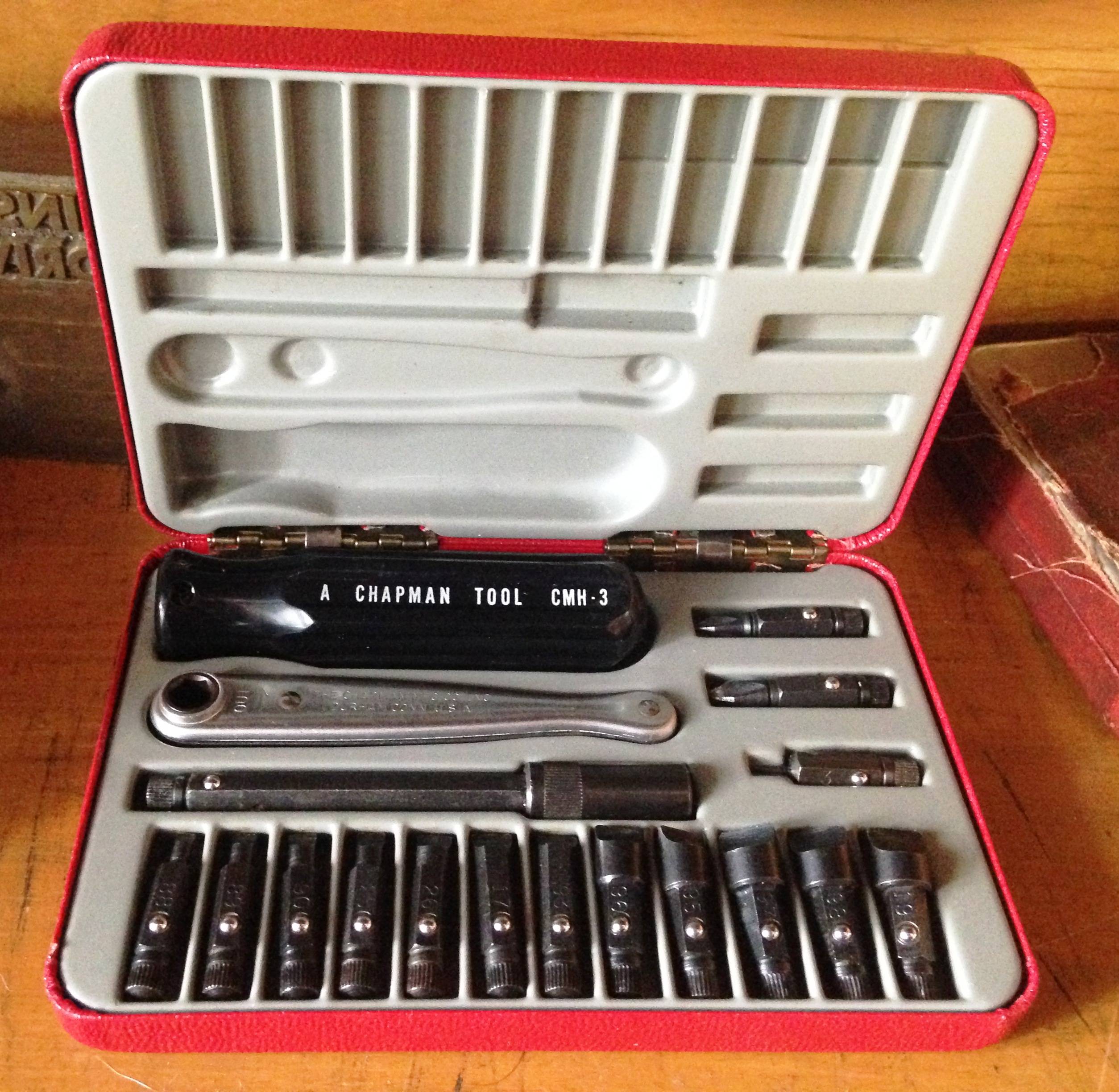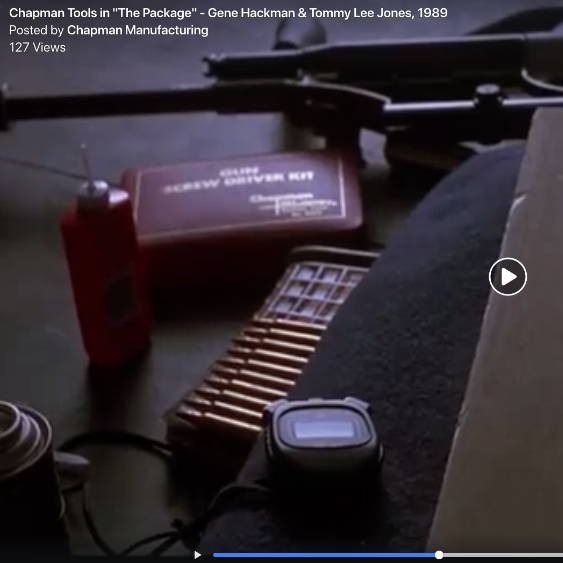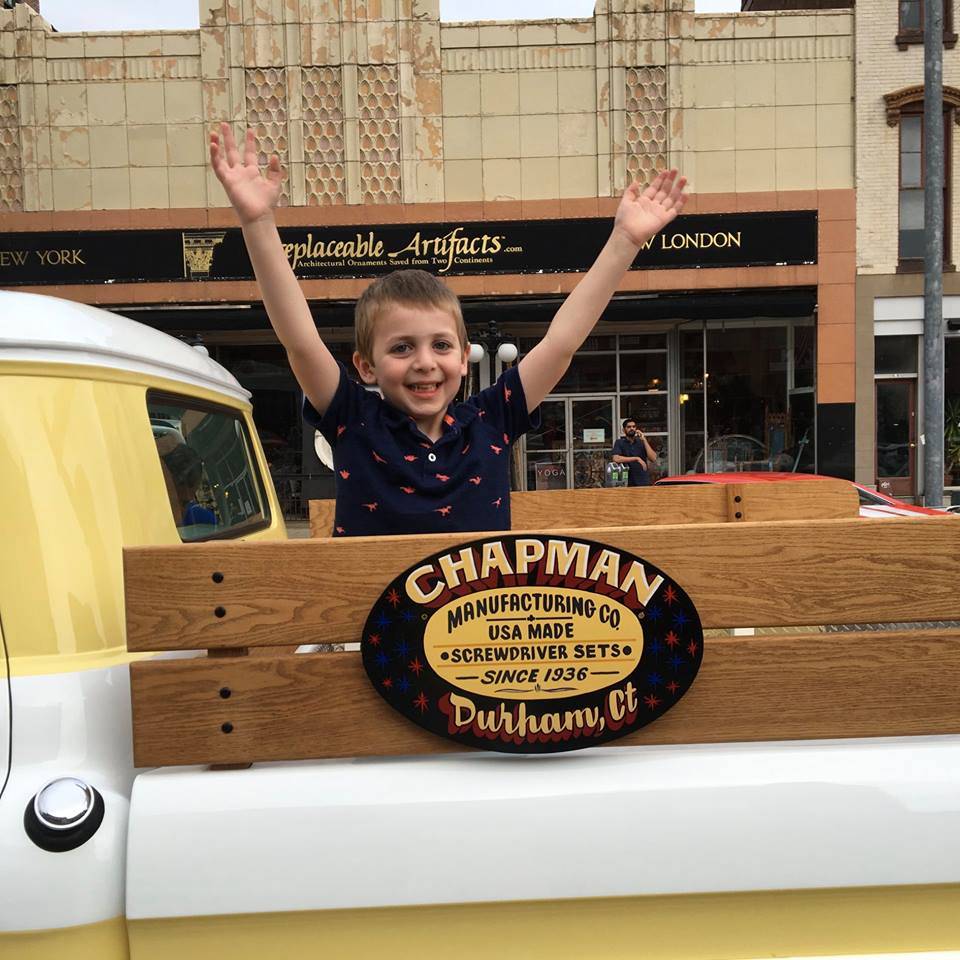 1968: Our tools on the cover of Popular Science, called "A Jewel of a Tool!" Owner Bill LeVee grows the business substantially
1970's: Bill expands many sets and starts packing them in the iconic red case. Fun fact: it's actually a jewelry box
1989: One of our sets seen in the movie "The Package" with Gene Hackman & Tommy Lee Jones. Around this time the yellow plastic cases we use today are phased in.
2010-Present: Tracy Camassar purchases business, modernizes production and brings Chapman into the digital age.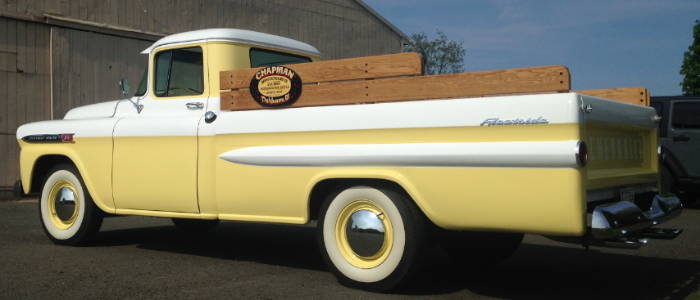 In May of 2012, we were looking for a project truck to restore as a company project and to use for public relations at local car shows. We soon found a 1959 Chevy Apache 3600 long bed on Craigslist, and though the body was pretty beat, it was mostly intact and rock solid.
As soon as we got her back to the shop we started sanding and disassembling. Before we knew it, she was just a cab sitting on a rolling chassis. Cut to exactly two years later and she was re-worked, re-chromed, re-painted and re-installed under the expert supervision of our master fabricator and machinist Rich. Though many parts were purchased, some parts were impossible to find because the truck is a rare ¾ ton with 8 lug wheels. Luckily Rich custom fabricated many parts, including little brackets to screw the moon hubcaps to the wheels.
    As of August 2014 we've taken her to 4 car shows (won three trophies), the Memorial Day parade, and many trips into town to get ice cream. She draws mega attention wherever she goes and we can't wait to take her to a couple tool industry trade shows.
Chapman '59 Chevy Apache Restoration Photos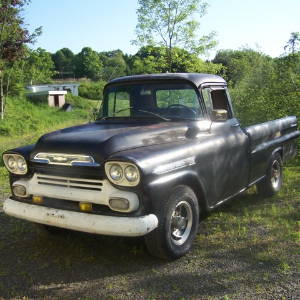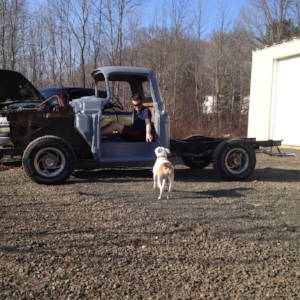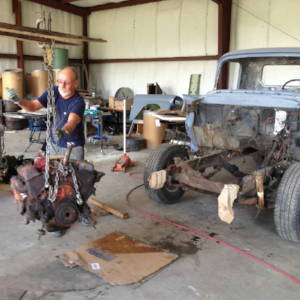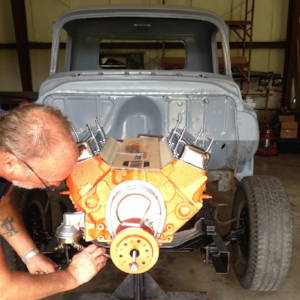 Purchased in 2012: solid but in rough shape
April 2013: Sanded down & started to prime
May 2013: Removed 350 smallblock engine
May 2013: Primed cab, painted motor & reinstalled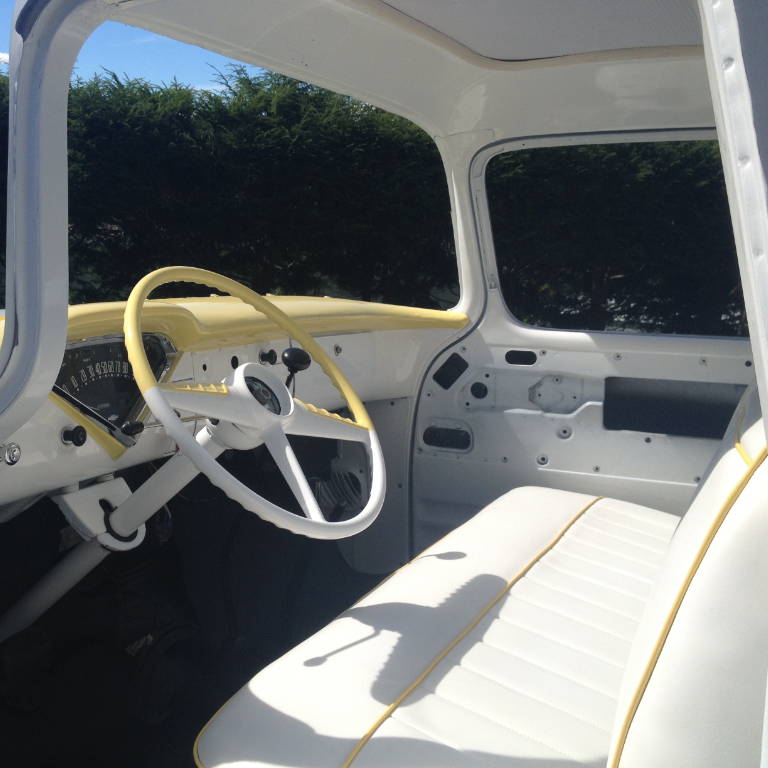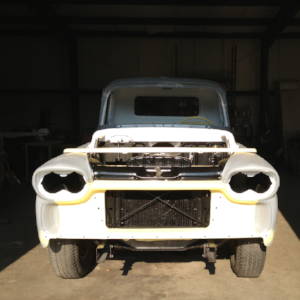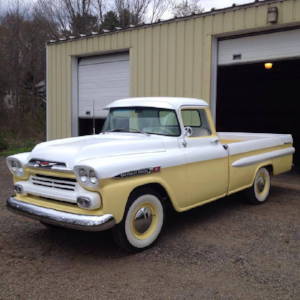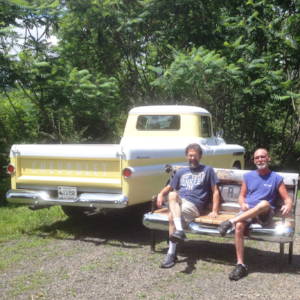 September 2013: Interior is mostly complete, outside is primed
Winter 2013/2014: more sanding, priming and exterior painting
May 2014: Fully painted and mostly re-assembled
June 2015: Finally finished! Bench made from original but beat up tailgate