Firearms & Weaponry Screwdriver Sets
About our 3 Gun Bit Sets
Chapman offers three gunsmithing screwdriver sets suitable for general repairs and restoration on firearms and weaponry. Each gun bit set contains our screwdriver handle,  spinner and famous midget ratchet, both interchangeable with a 3 5/8" extension. A handy kit diagram and torque chart are also included.
We have been manufacturing gunsmith style hollow ground screwdriver bits since 1936 and supply them to Navy SEALS and Snipers as well as hobbyist and professional gunsmiths.
Chapman Bits Vs. Other Bits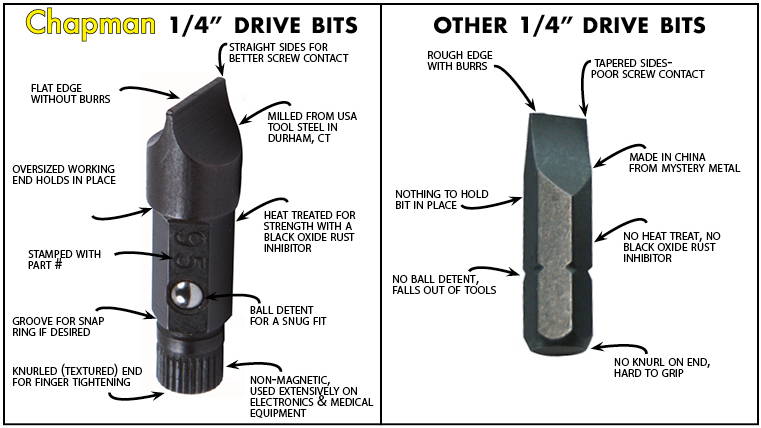 Gunsmithing Bits Designed to Minimize Screw Damage
1. Each Chapman bit is designed for use within a specific torque range. Small bits are designed for less torque, large bits are designed for more torque. Chapman tools and bits are specifically engineered for hand use.
2. Chapman bits are tough and springy, not brittle. We use fine alloy steel heat treated with a black oxide finish. Each bit reaches its specified hardness that is not too hard to shatter or too soft to twist.
3. Our smaller bits, .05", 1/16" 1.5mm, 2.5mm & slotted CM-88, 89, 90, etc. are designed to prevent damage in applications where the screw is more valuable than the bit. When excess torque is applied, our bits are designed to break before marring an irreplaceable screw. If a screw is seated so tightly that the bit starts to bend, stop immediately, additional force will break the bit, mar the piece or rip off the screw head.
4. Our famous Chapman Midget Ratchet provides approximately 4 times the leverage of a large screw driver. The ratchet provides more torque than small screws are designed for, so use gentle but even pressure to loosen small screws. A small size bit can be twisted if sufficient force is applied. Use the knurled ends of our bits or the spinner top to apply finger pressure.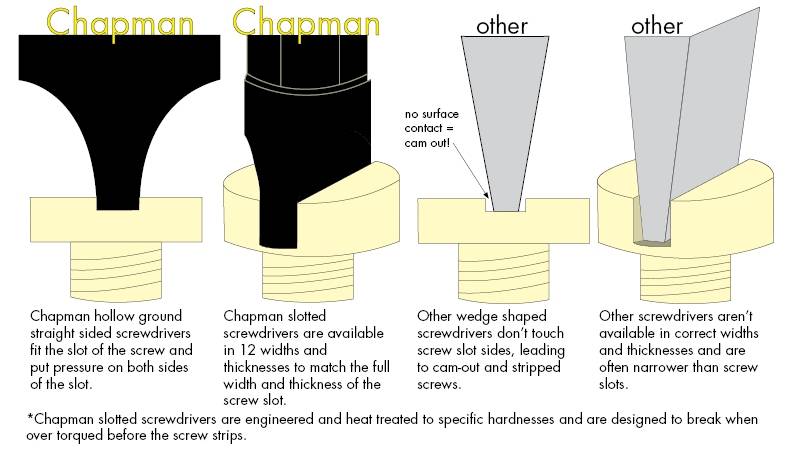 Protect your firearm with Chapman bits
1. Some customers break or strip bits (e.g., slotted #88, #89 ,#90 and Star S6, S8) when working on their firearms or scope rings. Considering threadlockers, tool torque ranges, and screw fitting can prevent this.
2. Use Loctite Purple 222 instead of the commonly (INCORRECTLY) recommended Loctite Blue 242. Purple Loctite 222 is for fasteners under 1/4". Many gun manufacturers and gunsmiths use Loctite Blue 242 for fasteners 1/4" to 3/4", yet firearms do not have fasteners larger than 1/4". More information on loctite
3. Since our bits are made to specific tolerances, they must be used in the correct size screw. The working end of the bit must bottom into the screw slot and the length and width must fit snugly. That is why we offer 12 different width and thickness slotted bits!
4. Many gun screws are designed and treated to never back out, so removing them with any screwdriver is futile and they need to be heated or drilled out. If a bit breaks, we have open stock parts at reasonable prices.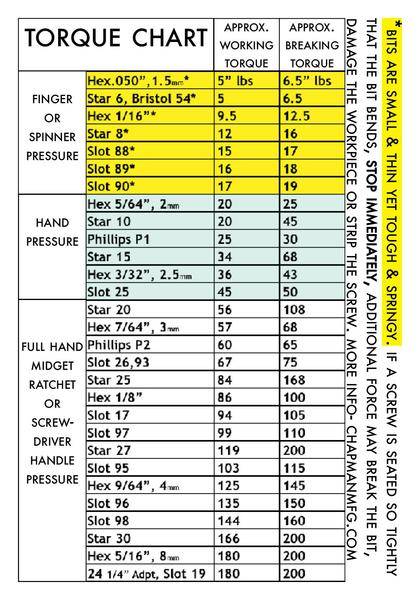 Guarantee: Chapman prides itself on the quality of our products. Our tools are guaranteed to be as represented and free of defects caused by defective materials or faulty workmanship.
In order to keep open stock part prices reasonable, we can not offer replacement of tools in use for many years (sometimes 30+) that wear out/break. Our guarantee guards against defective materials and faulty workmanship. Tool replacement requires that faulty parts are returned to us with proof of purchase within three years. Our guarantee does not cover products that are improperly used, abused or altered.
Chapman values the loyalty and dedication from our customers and will continue to bring you quality USA made products for years to come.
Starter Slotted Set #9600

SAE Hex + Slotted Set #8900

Ultimate Gunsmithing Set #5589
Bits:
Phillips: 2
SAE Hex:1
Slotted:14 (2 duplicate)
Great For:
Gunsmithing
Coleman lantern restoration
Sewing machine restoration
Fishing reel restoration
Telegraph restoration
I recently purchased a Taurus 605 revolver and I was looking forward to disassembling it and cleaning it up. The big problem I ran into was removing the three side screws (the screws on the revolver's side plate). With the screw drivers I had on hand I couldn't get the cylinder release screw (located between the cylinder and trigger) to budge ... leaving me fearful that I would damage the screw if I fiddled with it any more. Same problem with the other two side plate screws. Once the Chapman set arrived I found removing all three of these screws was a breeze ... and all three came out easily with no forcing at all. It was a great relief and I was amazed how well Chapman's set worked...It left me thinking again how nice it is to have the right tool for the job. So I found the Chapman set to be excellent and am very glad I purchased it ... and would purchase it again in a heart beat. And as a side note for anyone who might own this type of Taurus revolver ... the #90 Chapman bit perfectly fit the revolver's cylinder screw and the Chapman #89 bit perfectly fit the other two smaller side plate screws. These bits literally removed these screws as if there was no problem with them at all. I actually still can't get over how easy the screws were to remove with this screwdriver set. So I give the set five stars with no hesitation at all. - THW
Absolutely top quality screw driver kit...saved me a ton of headache and expense when dealing with those dumb Magpul Grip Screws!!! Every screwdriver I tried kept mangling my Magpul flathead grip screw that I was trying to take out of my AR15 because I wanted to change grips...I was about to just take it to a gunsmith when I happened upon this kit on Amazon. Thank goodness I did! The largest flathead it comes with fit perfectly and the included stubby wrench had just the right amount of torque to loosen the screws loctited death grip on my receiver! This whole kit oozes quality and the built in the USA craftsmanship is well worth the premium! I will definitely be purchasing any other similar tools from Chapman in the future! - V Condry
Bits: 9600 Contents +
• SAE Hex: 10
Great For:
• Gunsmithing
• Weaponry
• Sewing Machine Restoration
So I would give these 10 stars if I could. This is the best and most thoughtfully designed screwdriver set I've ever encountered...These drivers exceeded my expectations in a lot of ways some big and some little but all meaningful.
1) Case. The case is not the typical 1 piece blow molded garbage. It is blow molded but it is of much heavier grade plastic and wait for it... has an actual hinge. Yup manufactured of 2 actual pieces and actually assembled... needless to say it feels better is more durable and just nicer than the usual fair.
2) Bit shape. These are hollow ground. I now they aren't the only hollow ground bits out there, they aren't even the only hollow ground bits I own. But they are well machined and importantly come with a data card indicating the maximum intended working torque for each bit. These torques are calibrated to the intended working torque of fastener that correspond to the bits. Useful information particularly if you are a machinist or gunsmith and actual screw torque matters.
3) Versatility. The set comes with like 8 different ways that you can use was bit depending again on how much room you have and how much torque you need to bring to bear. The lowest is using the actual machined knurling on the back of every bits (great for toys and certain finishing screws) and you work up from there to the fingertip holder all the way out to the 3" bit ratchet. Again thoughtful giving the user 1) the ability to get into tight spaces and 2) the ability to use the bits in a way that won't strip the head or tear out the substrait or otherwise get to a counter productive place. If you're are debating. I hope this helps. They are a great value and a great set of tools. - JMA
You absolutely need hollow ground screws if you own firearms. Just because a flat head driver fits into your grip screws, doesn't mean it'll work without damaging the screw. I learned the hard way. I have a few screws that are stripped because I used tapered screw drivers that you find everywhere. After some searching I found this set of Chapman screws and boy is this kit great. It may seem pricey, but it's made in the USA and from the moment I opened my set, I could tell it was made with pride. If you're thinking about this set, just get it, you won't regret your decision. - PC
I've had this for over a year now and have been very happy with it- and then I sheared off a bit. Called the folks at Chapman and chatted with a great customer rep- she informed me that the bit was not covered under warranty (I really did not think so, but had to ask) and that was really not that big a deal- the replacement tips are reasonable to buy. The bonus was when she told me that I could order in extra bits without paying more shipping- heck- you're going to send an envelope, might as well fill it as full as postage will allow. So I not only got the replacement bit, but some of the sizes that were skipped in the set. I've yet to damage a screw with this set, the hollow ground shape holds well, and sheared off (as designed) with too much torque. - Bob
Bits: 8900 Contents +
• Star (fit Torx):7
• 1911 Grip Screw Bit
Great For:
• Gunsmithing
• Weaponry
• Sewing Machine Restoration
Well made and good buy. Pay a little more and move up a lot in quality. They also offer other bits you may need. Case has room for additional bits. - Jackie
What can I say? After fiddling around with a big-name brand import "gunsmith screwdriver" set, I got tired of twisted & broken bits and blades and bought this. I wish I had bought this from the beginning. -Matt
Excellent set of ratchet screwdrivers IF you know what to use it for. Remember, you want the right tool for the job. If you read the product description Chapman screwdrivers are primarily designed or intended for gun smithing, DENTAL work, LAB work. So what this is telling you? This set of bits is not heavy duty, but rather light, detailed, precise work being gun smithing, or otherwise. If you try to remove a stubborn screw or really tight one to the max torque possible, this set is NOT for you. You would be better off getting a screwdriver set from HD or Lws. This set is for light gunsmithing jobs. The good thing is, if you break a bit you can buy a replacement, instead of trying to replace a rare, unique screw in your gun collection. So, if you don't want to get disappointed be aware of the limitations of this tool. The set comes in a nice handsome case, the bits are organized, the ratchet is fantastic. There is also a little "wheel" if you will, to apply gentle pressure. So you can apply pressure using only your fingers, the little "wheel" the handle, the screwdriver handle or the ratchet. All in all, it is a good set if you know what kind of jobs you can use it for. - Jose