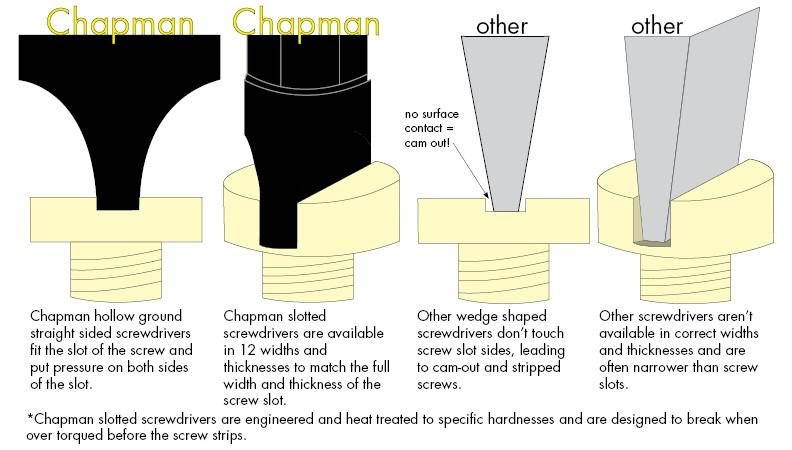 ---
Hollow ground screwdrivers are vital. If you're new to gunsmithing- or purchasing a set as a gift- it is crucial to know the importance of getting slotted screwdrivers that are hollow ground. Hollow ground screwdriver bits are not tapered like other screwdriver bits (think \/), but instead are concave and straighten out to a parallel (think ||). Using hollow ground gunsmith screwdriver bits for the screws on your gun means that the tip of the bit fits more snugly into the parallel opening of the screw on your gun. You want the screwdriver bit to grip the screw from the "bottom" of the slot in the screw, opposed to a tapered bit which grips from the "top". This leads to less marring of your precious screw, which brings us to #2...

You don't want to mar your screw. Some gun screws are expensive (we've seen some upwards of $20!). Some screws are antique, irreplaceable, and therefore priceless. These, among others, are reasons why marring your screw can be an expensive or severely damaging problem. Using precision gunsmith screwdrivers can save you stress and added costs. This is why some Chapman bits are actually designed to break before your screw does. You read that right. The second part of that sentence is key. We know your antique firearm is expensive. We know that damaging and stripping a screw is the last thing you want to do. We also know that you'd rather spend the $1.50-$2.00 to replace your screwdriver bit rather than potentially and permanently damage your firearm, so we provide open stock ordering for bit replacement. We're proud of the quality of our products and that they do exactly what they are designed to do with the customer's preferences in mind. We're on your side.

Gun screws have different dimensions than regular screws. Finding gunsmith screwdrivers that fit your guns well can be the difference between easily removing a screw and struggling. Because over 100 years ago many screws were not made to standard sizing and often hand-cut, finding a perfect fit between screw and screwdriver can sometimes seem impossible. Antique screws have very long, thin blades that are harder to find in regular screwdriver sets. Chapman has created a versatile array of slotted bit tips to help you get as close as you can to a perfect fit on antique, non-standard screws.
So why do Chapman bits stand out as precision gunsmith screwdriver tools? 
The Chapman signature knurled end. For really precise and sensitive work, we give you the option to simply finger tighten your screws to just the right amount. If you need just a little extra assistance, we also have:

The Spinner. This accidental invention has been the little tool no one knew they needed and now can't live without! It gives you just a touch more leverage than finger-use, but allows you to be more precise than the handle or ratchet. Countless Chapman gunsmith screwdriver users say the Spinner tool is their secret weapon.

Our bits are heat treated to the perfect range. Chapman bits are tough and springy, not brittle. Each bit reaches its specified hardness that is not too hard to shatter or too soft to twist immediately.

They last a lifetime, probably longer. All too often we hear from customers who inherited their gunsmith screwdriver set from their father, uncle, old boss. It warms our hearts to see our gunsmith screwdriver sets be passed on from generation to generation and the tools still being used as if they were just purchased yesterday. The great thing about Chapman products is that they are timeless and never go out of style!