Chapman Interchangeability
Chapman makes the most versatile USA miniature ratchet and insert bit sets on the market. People use our tools where a regular screwdriver or hex key will not fit or provide adequate torque. Each of our bits are designed to work independently, or in conjunction with our other interchangeable ratchets, screwdriver handles or extensions.
• Screwdriver bits have knurled ends to use for finger tightening. Learn more about our screwdriver bits
• Famous midget ratchet is under 4" long and provides over 200" lbs or torque (equal to 4x the torque of a large screwdriver). Learn more about our ratchet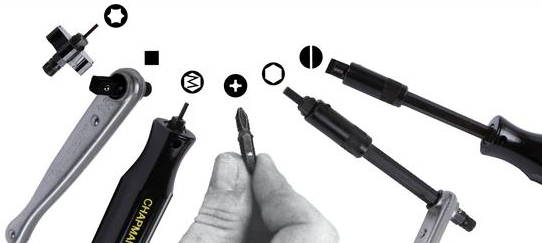 Old Fashioned Quality and State of the Art Craftsmanship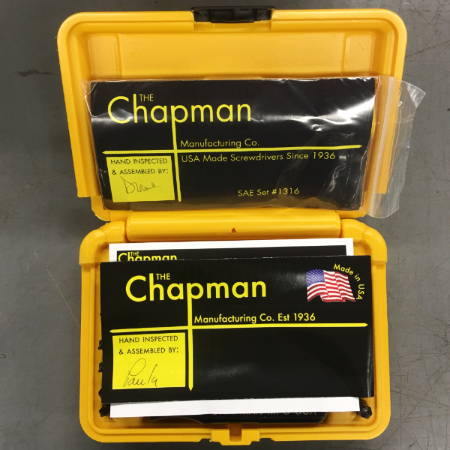 Chapman tools are made in Durham, CT from USA materials. We support American made machinery tool and die makers, fabricators, metal finishers, machine part manufacturers and other local service providers. Your support of Chapman MFG in turn supports all the American workers that we rely on!
Many people say that they "don't make things like they used to." Here at Chapman, our famous midget ratchet and screwdriver bits are essentially unchanged since 1936. We've added more tools and different types of bits since our inception, but the basic assemblies are unchanged.
We precision mill our screwdriver bits on modern equipment that hold tight critical tolerances and produce screwdriver bits with sharp corners, flat ends and no burrs to fit straight and snug into fastener heads. They're heat treated to specific tolerances and then finished with a rust inhibitor black oxide coating.
Our famous midget ratchets are punched from USA stainless steel, hand assembled, inspected and tested before placed into a tool set.
Each set is then also hand inspected, assembled and the accompanying brochure is signed by the assembler. Every kit and part shipped out of our shop is inspected again by a different team member before shipment.
Please read our guarantee below.
Guarantee: Chapman prides itself on the quality of our products. Our tools are guaranteed to be as represented and free of defects caused by defective materials or faulty workmanship.
In order to keep open stock part prices reasonable, we can not offer replacement of tools in use for many years (sometimes 30+) that wear out/break. Our guarantee guards against defective materials and faulty workmanship. Tool replacement requires that faulty parts are returned to us with proof of purchase within three years. Our guarantee does not cover products that are improperly used, abused or altered.
Chapman values the loyalty and dedication from our customers and will continue to bring you quality USA made products for years to come.